A Kaleidoscopic Adventure Awaits in Marrakech
Known as "the ochre city," Marrakech is a hotbed of geographical and cultural diversity. From rocky deserts to snow-capped mountains, there's something for everyone. This guide will provide:
Our top-rated Marrakech excursion
Must-visit places in the city

Our top-rated places in ou Marrakech excursion guide: Get Lost in the Desert—Literally
Agafay Desert by Sidecar

Begin your journey with a unique sidecar ride through the Agafay Desert. Traverse desert trails, meet local artisans, and enjoy a lavish lunch at a peaceful camp amidst arid hills.

For those of you seeking a bit of authenticity amidst the hustle and bustle of Marrakech, you're in for a treat! After an exhilarating adventure on the off-road trails of the desert, you'll have lunch at Scarabeo Camp.
Authentic Moroccan Lunch at Scarabeo Camp
After off-road adventures, savor meticulously curated Moroccan dishes in a camp that recalls the golden age of exploration.

For an authentic Moroccan experience, book our Marrakech Ride to Agafay Desert and other hidden treasures. Marrakech Insiders offers the best way to explore Marrakech and its surrounding areas.
Must visit places: Marrakech's Best Sights and Bites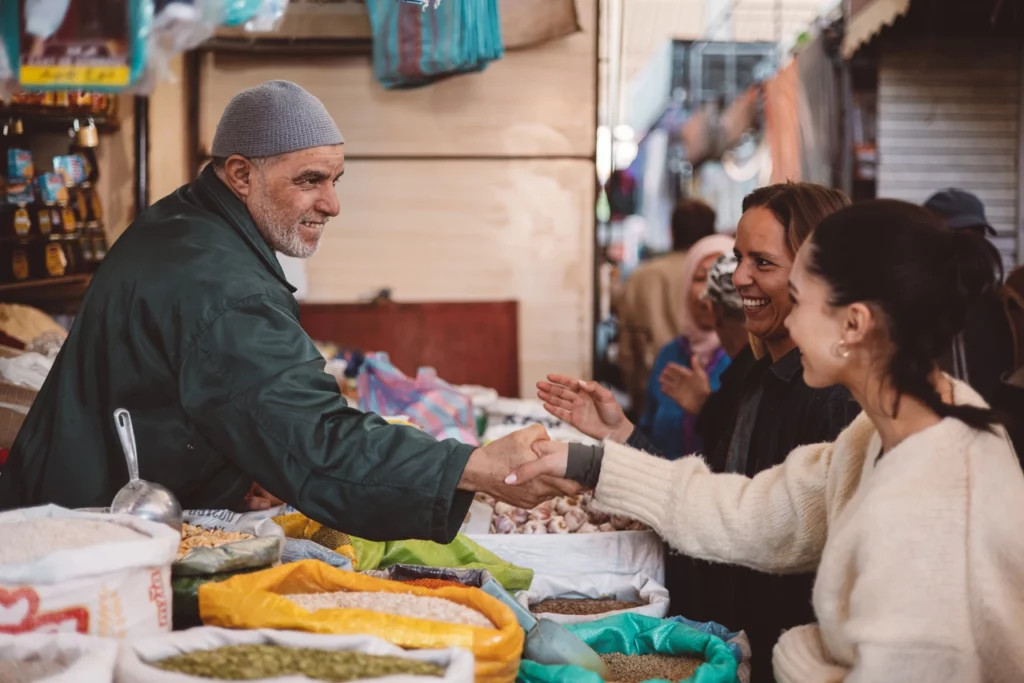 Sophia Van Den Hoek – Souk de Marrakech
Lunch at La Famille
Continue your adventure at La Famille, an ideal place for lunch under lemon trees, offering a taste of authentic Moroccan cuisine in a tastefully decorated environment.
Visit this museum to appreciate Morocco's photographic treasures and diverse culture.
Practical Info: Open 9:30 am to 6 pm. Adults: 50 MAD, Under 15: Free.
Wrap up the day at one of the bars in the iconic La Mamounia Hotel. Sip on cocktails in a picturesque and refined setting.
For dinner, we recommend the restaurant La Terrasse des Épices, which offers a very cozy atmosphere with live music every evening. There you will find a mixed menu featuring both local and Western dishes.
If you're in a festive mood, head to the bar-restaurant L'Épicurien, which you can reach by going through the Es Saadi casino. Starting at 10 p.m., a live band full of boundless energy will allow you to end your vacation on a high note!