To help navigate your shopping spree, we've curated a list of the top 5 deco shops in Marrakech, each promising authenticity and unique finds.
Marrakech is not only famous for its rich history and gastronomical delights but also for its shopping experiences. While wandering through the ancient Medina and savoring local delicacies is a must, one cannot truly claim to have experienced Marrakech without indulging in its vibrant shopping scene. However, amidst the plethora of options, discerning genuine local craftsmanship from mass-produced items can be a challenge.
Galerie Pop: A Modern-Day Aladdin's Deco Shops
Tucked away in Marrakech's industrial neighborhood, Galerie Pop is a luminous loft that blurs the lines between a deco shop and an artists' showcase. Every Moroccan artist featured here personalizes their space, displaying their craft ranging from avant-garde lighting fixtures to quirky ceramics. Whether you're on a budget or ready to splurge, Galerie Pop promises something special for everyone.
Location: 109 – 4, Avenue Principale, ZI Sidi Ghanem
L'Orientaliste: A Glimpse of Chic Marrakech
Nestled in Gueliz's iconic rue de la Liberté, the twin L'Orientaliste shops shimmer like hidden gems. From traditional artifacts to contemporary art pieces, fragrant candles, and elegant furniture, if you're searching for a sophisticated memento from Marrakech, this might just be your go-to spot.
El Fenn Boutique: A Blend of Tradition and Trend
Situated within the El Fenn hotel, this deco shops offers a distinctive shopping milieu, surrounded by the hotel's bar and restaurant. It boasts a diverse array of items, including vintage apparel, handcrafted ceramics, linens, and more.
Location: Derb Moullay Abdullah Ben Hezzian, Marrakech
Max & Jan: A Palette of Moroccan Delights
Conceptualized by Swiss-Belgian designers Max and Jan, this Medina-centered deco shops is a treasure trove of colors. From chic kaftans to traditional apparel, souvenirs, and home decors, every item is a testament to Moroccan artistry. Plus, you can indulge in yoga or grab a bite here!
Location: 14 Rue Amsefah, Marrakech
LRNCE Studio: Where Artistry Meets Craftsmanship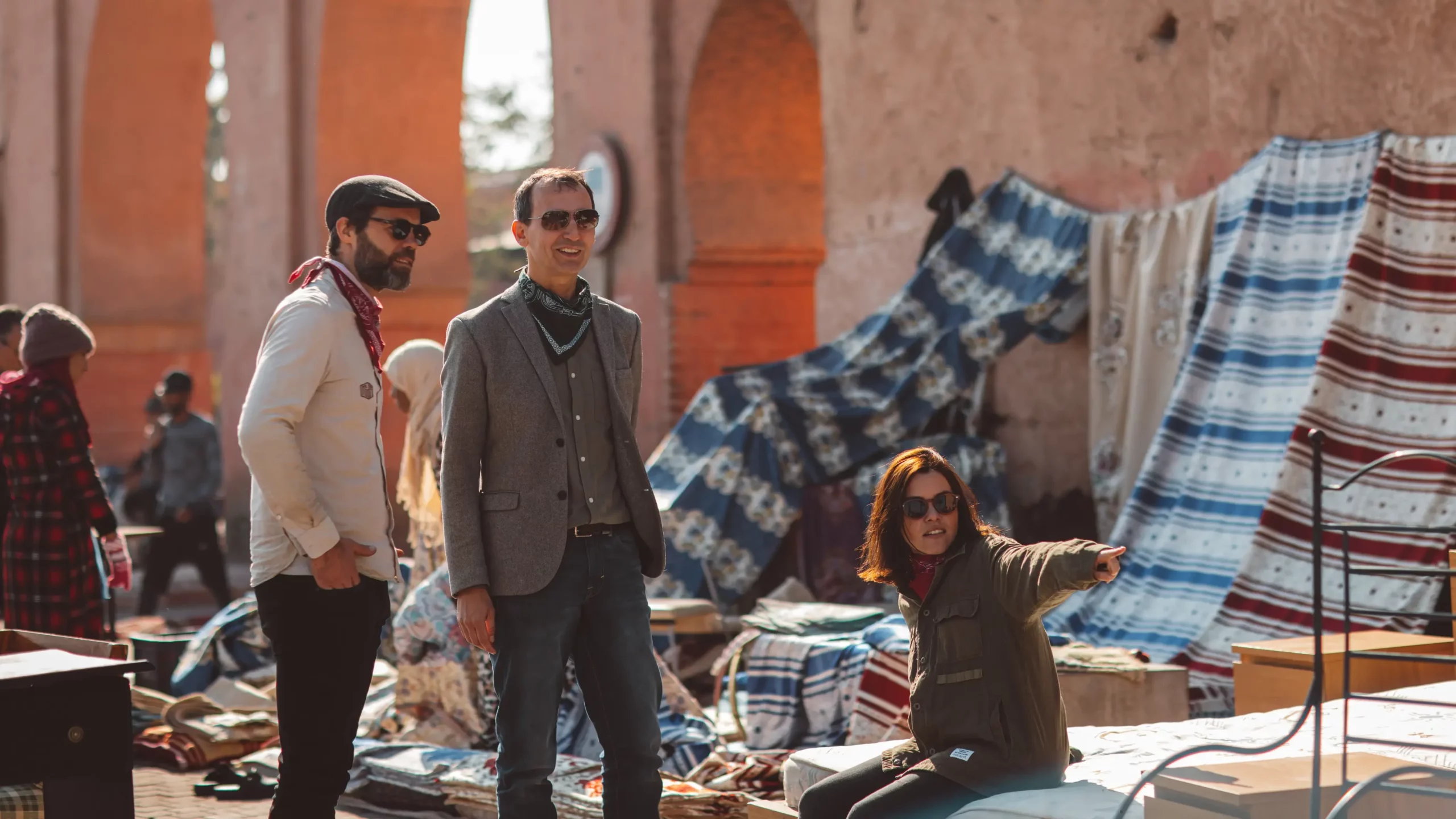 Founded by Laurence Leenaert in 2013, LRNCE is a Marrakech-based brand that champions the fusion of contemporary designs with traditional North African craftsmanship. Every handmade piece, be it abstract or minimalistic, resonates with the spirit of Marrakech.
Location: 59, Sidi Ghanem, Marrakech
MORO Marrakech: Dive Deeper into Marrakech's Artistry
Tucked away from the bustling streets, the striking salmon-pink structure of MORO Marrakech is an oasis of tranquility, surrounded by the serene beauty of palm trees, cacti, and a refreshing pool. Situated right next to the lush Jardin Majorelle, MORO isn't just a boutique hotel; it boasts a standalone deco shop with an expansive two-floor layout, adorned with potted trees and brimming with an elegant ambiance. The founders, Mouad Mohcine and Mohcyn Bousfiha, bring the essence of Essaouira to life with their skincare line, The Moroccans, which exudes notes of bergamot, citrus, and sandalwood.
Inside this unique deco shop, you're treated to an array of meticulously crafted items – terracotta pitchers, matte cobalt blue ceramic vases, and artistic brass insects. One can't miss the ceramic platters and bowls, each uniquely painted by the owners. The store's second floor unveils an assortment of handmade Moroccan rugs, perfectly complementing the stylish apparel by emerging designers. But that's not all, MORO's outdoor café offers delectable dishes, making it an all-encompassing Marrakech deco shop experience.
Chabi Chic – A Symphony of Moroccan Craftsmanship
Located a stone's throw from the Yves Saint Laurent Museum and the renowned Jardin Majorelle, Chabi Chic stands out as a premier deco shop for Moroccan ceramic enthusiasts. From dinner settings to stemmed bowls, each piece in this deco shop showcases Morocco's intricate floral and geometric designs. The earthy color palette, inspired by nature's finest hues, can be seamlessly mixed and matched to adorn any dining setting.
Chabi Chic's story is as fascinating as its collection. Vanessa Di Mino, an architect from France, was so enamored by Marrakech's charm that she decided to make it her home. Together with Nadia Noël, they co-founded Chabi Chic, a prominent deco shop, in 2013. While their primary location is on Rue Yves Saint Laurent, their expansive showroom in the emerging industrial district of Sidi Ghanem beckons decor aficionados from near and far.
When in Marrakech, shopping isn't just a pastime; it's an immersion into the city's heart and soul.

Dive into these top deco shops and uncover the city's artisanal essence, one purchase at a time.

Help & Support
Book your Ride